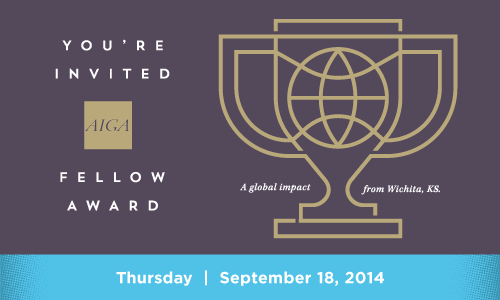 Thursday, September 18, 2014 / Wichita
Friday, October 3, 2014 - Saturday, October 11, 2014 / Wichita

Mark your calendar for AIGA Wichita's first annual Design Week Oct 3rd - 11th.

Inspire. Learn. Socialize.
Design inspires us. It affects the way we learn, do business, and live within our city. Design brings people together in ways that can have an impact on our community long term. AIGA Wichita has organized Wichita Design Week as a way to reach out to our creative community as well as local businesses, non-profits, entrepreneurs, students, the design-savvy public, and more. Our goal is to raise public awareness of the impact that all design has in the Wichita area.

Whether you come from the worlds of advertising, architecture, illustration, manufacturing or beyond, we invite you to join us October 3rd-11th. 
Wednesday, October 22, 2014 / New York

In New York on October 22, but unable to attend the "Gain" conference? We have a limited number of seats available for the professional development workshops and leadership symposium on Wednesday. Negotiations, design leadership, fundraising and more; these intensive, three-and-a-half hour workshops are designed to be both instructional and hands-on. For more information, visit: http://www.aiga.org/professional-development