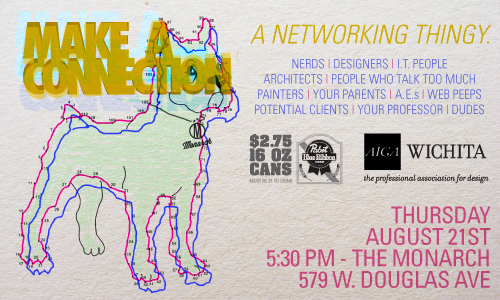 Thursday, August 21, 2014 / Wichita
Mark your calendar for August 21 and plan to join us at The Monarch for Make A Connection. Our kick-off social event is a great way to reconnect our creative community and connect with someone new. After all it is a networking thingy. Plus, we will be connecting the dots on another great year of events full of many firsts for AIGA Wichita.
If you want to learn more about AIGA this is a great event to talk with members and see for yourself how AIGA can be a great connection for you.
This is a free event... except your bar tab.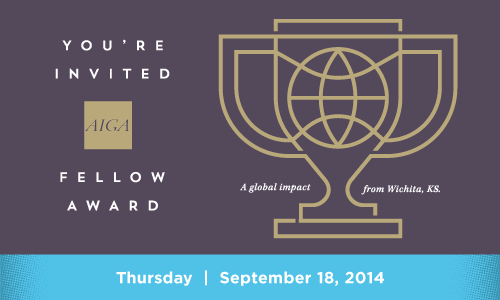 Thursday, September 18, 2014 / Wichita
This year AIGA is celebrating its 100th Anniversary as the leading association for design professionals. In conjunction with this milestone, Bill Gardner of Gardner of Gardner Design, has been selected to receive AIGA Wichita's first ever AIGA Fellow Award. Bill is being recognized for his contributions to our creative community, inspiration to the design profession, and global impact on brand identity design. Joining Bill will be a host of guests sharing their experiences, insights and inspirations for what promises to be an exciting evening of design and inspiration.
Monday, September 8, 2014 / New York
"Strategies to Accelerate Revenue Growth" is an intensive workshop exclusive to AIGA New York members. The evening will include an overview of the program as well as a dynamic and interactive preview class covering strategies CEOs use to drive massive growth in their businesses. For more information, visit:
http://aigany.org/event/10000-small-businesses-workshop
Friday, October 3, 2014 - Saturday, October 11, 2014 / Wichita
Mark your calendar for AIGA Wichita's first annual Design Week Oct 3rd - 11th.
Inspire. Learn. Socialize.
Design inspires us. It affects the way we learn, do business, and live within our city. Design brings people together in ways that can have an impact on our community long term. AIGA Wichita has organized Wichita Design Week as a way to reach out to our creative community as well as local businesses, non-profits, entrepreneurs, students, the design-savvy public, and more. Our goal is to raise public awareness of the impact that all design has in the Wichita area.
Whether you come from the worlds of advertising, architecture, illustration, manufacturing or beyond, we invite you to join us October 3rd-11th. 
Wednesday, October 22, 2014 / New York
In New York on October 22, but unable to attend the "Gain" conference? We have a limited number of seats available for the professional development workshops and leadership symposium on Wednesday. Negotiations, design leadership, fundraising and more; these intensive, three-and-a-half hour workshops are designed to be both instructional and hands-on. For more information, visit: http://www.aiga.org/professional-development