Designers are not "just designers." We have a unique set of innate skills including empathy, creativity, strategy, but most of all the experience and grit to execute our ideas, which makes us essential to our businesses and community. Getting involved, not only inspires us, but it can give us the inspiration, confidence and platforms to empower and embolden us in the work we do. This talk draws on my personal experiences and growth to show how getting involved in our communities enhances and inspires our careers and needs for purpose.
Join us February 19th as we discuss how design for community impact can and should change your world with Frances Yllana.
---
About Frances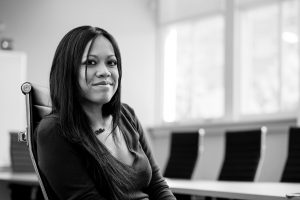 Frances Yllana is a branding, experience and community strategist, designer, teacher, speaker and consultant for businesses and non-profits. She is also Experience Director at projekt202 headquartered in Dallas, cochair of AIGA's national Design for Democracy Initiative, Design Director for AIA Dallas's Columns Magazine and President Emeritus of AIGA Dallas. Since 2001, she has worked for and led some of Dallas's most reputable design and advertising firms on projects ranging from branding, publication design, illustration, copywriting, advertising, interactive, video, social media, environmental and experiential design as well as enterprise software research, design and development. Her work has been recognized in some of the industry's most noted publications and interactive collections including Print, Graphis, Communication Arts, Black Book AR100, Creativity34, UnderConsideration and The Dieline and has won awards from numerous leading industry organizations.
Along with her work in the field, Frances has experience teaching design practice and professional development as a full-time professor at the University of Texas Arlington's Art + Art History Department and as an adjunct at the University of North Texas' Visual Arts + Design Program. She also extends her design thinking facilitation practice by conducting workshops for non-profit and for-profit organizations, leading them to solve problems and innovate using radical collaboration. In July 2018, Frances also received an Executive Certificate for Business Leadership from the Yale Graduate School of Management. Other projects of pride include bringing national design attention and programming to Dallas and its community including: GOOD magazine's GOOD Ideas for Cities (2013), GOOD Local (2013-2014) and 99U Local (2015), as well as the national AIGA Leadership Retreat in 2017.

Social Links
linkedin.com/in/francesy
twitter.com/francesy
instagram.com/sofrantastic
Portfolios
francesyllana.com
moreactionthanartifact.design
---
Location
Exploration Place
Kemper Theater
Time
Doors 6 p.m.
Talk 6:30 - 8:00 p.m.

Cost
Member $15
Non-Member $20
Student $10

Refund Policy
If you are not able to attend an event you have paid for, transferring your ticket is recommended. Refunds can be given up to 48 hours before the event. No refunds will be given after less than 48 hours. A $5 processing fee will be charged for any refunds given. Please contact treasurer@wichita.aiga.org