GUTS: Creatives Carving Wishes
Saturday, October 15th | 11am–4:00pm @ THE ALLEY
---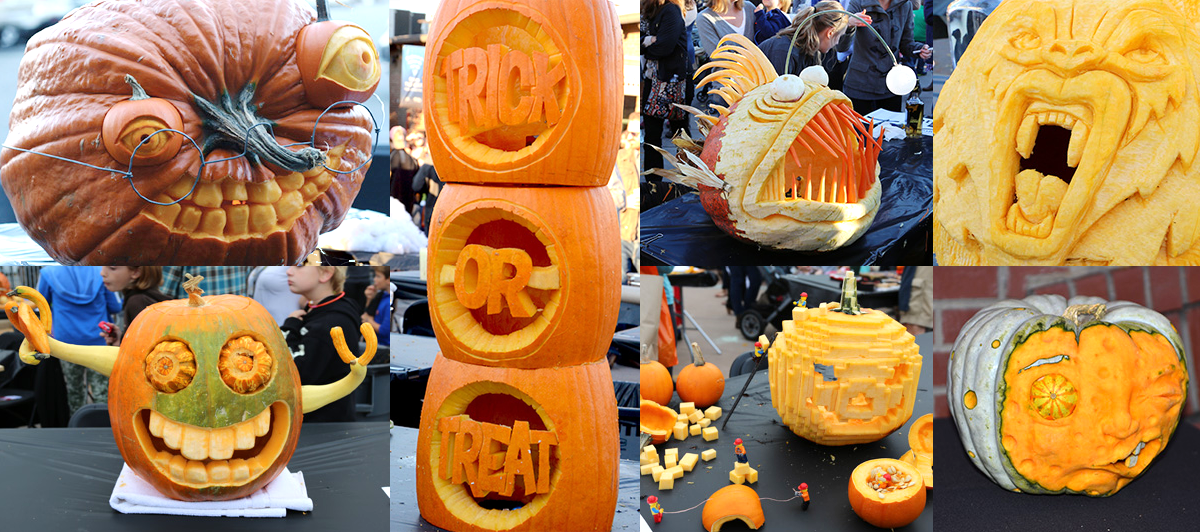 B.Y.O.P. (Bring Your Own Pumpkin) and help a child in need!
GUTS IS A FRIENDLY PUMPKIN CARVING COMPETITION
Creative adults and students from the Wichita area will carve unique pumpkin creations LIVE during our 90-minute carving competition, 11:30–1pm! Families can bring their own pumpkin and carve along with us!
Join us for an afternoon of FREE fun, with a kids' bounce-house, face painting, photo booth, and bluegrass music from 1-3pm. Bid on items donated by local businesses in our silent auction, and take home one of the prized pumpkins!
Help us raise money for Make-A-Wish® Kansas!

HELPING MAKE-A-WISH®
Make-A-Wish® and GUTS believe that a wish experience can be a game-changer. GUTS and AIGA can help grant wishes and change the life of a child battling a life-threatening illness.
100% of event proceeds will benefit the Make-A-Wish® Foundation.
---
Family Events

GUTS is FREE to attend and is open to everyone — adults, teens, and children! Spend the afternoon with us, from 11:00am – 4:00pm at The Alley parking lot!
Watch teams of local artists carve creative pumpkins live on the spot!
Bring your own pumpkin and carving tools and carve along with us!
Bid in our silent auction – Take home one of the winning pumpkins, or bid on Tallgrass Gala tickets, A Spice Merchant gift basket, a Reverie Coffee gift certificate, and more!
Enjoy our inflated kids' BOUNCE-HOUSE!
Coloring activities
Free fun photo booth with Halloween props!
Face painting
LIVE bluegrass music from 1-3pm!
Freddy's Frozen Custard coupons
Plus, get an ALL-DAY pass to The Alley for only $15!
---
Pumpkin Carving Competition
Help us raise money for Make-A-Wish by making a small donation in order to compete!
ARTISTIC ADULTS
Team of 2-3 carvers – $30 donation
Individual carver – $15 donation
COLLEGE STUDENTS
Team of 2-3 carvers – $15 donation
Individual carver – $10 donation

>>> REGISTER NOW! <<<
Online registration includes one FREE GUTS t-shirt per participant (while supplies last)
Families & GUTS visitors

Families and GUTS attendees can bring a pumpkin and tools to the event and participate in the competition. A $10 donation to Make-A-Wish is encouraged! Non-competitive carving lasts all day, until 4pm! br>
br>
COMPETITION RULES:
Each participant or team must provide their own pumpkin(s) and carving tools.
You will have 90 minutes to carve your pumpkin, from 11:30–1:00pm.
Teams (made of 2-3 people) will work together on a single entry that should incorporate multiple pumpkins (at least 1 per team member).
Individual carvers may use multiple pumpkins.
Pumpkins should be gutted before arriving for the competition, to save time and reduce mess on-site.
You can incorporate squash, gourds, and other fall vegetables into your design.
Craft materials like wire as accessories or support systems for your entry, but they cannot comprise of the majority of your design.
Painting or drawing can be part of your design.
Your final creation will need to be able to be moved to the auction table and to the buyer's car. It will need to be structurally sound enough to be moved safely.
The pumpkins are judged by the AIGA board and GUTS attendees.
We will be giving away gift cards and other prizes to our competition winners!
Any questions? Please contact us.
>>> Sign up to be a carver today! <<<
---
GUTS Sponsors

Thank you to: Tallgrass Film Association, Spice Merchant, Reverie Coffee, The Donut Whole, Pinot's Palette, Lucinda's Old Town, Todd Brian's, and Bella Luz for donating items to our silent auction!
---
GUTS Event Schedule

Saturday, October 15th @ THE ALLEY parking lot (Map)
11:00 – The fun begins! All are welcome! Guests can enjoy Family activities, photo booth, merchandise booth, and The Alley activities all day long!
11:15 - 11:30 – Carvers arrive at The Alley parking lot to set up their stations
11:30 – Ready, Set, Carve! Carving Competition begins! Guests are welcome to watch!
12:45 – Furious pumpkin carving action during the final 15 minutes!
1:00 – Carving Ends! Carvers prepare their stations for judging and the silent auction
1:15 – Guests can cast their "People's Choice" pumpkin votes
1:30 - 2:00 – Judges will be making their rounds, scoring each entry
2:00 - 2:20 – Silent Pumpkin Auction begins - Place your bids to help Make-A-Wish!
2:30 – Team, Individual, and People's Choice winners will be announced!
2:45 – Silent auction winners can now take their pumpkins and items home
3:00 - 4:00 – Bounce house, photo booth, and family pumpkin carving continue!
The Alley will close temporarily at 3:30 for another event, but come back at 6:30pm for unlimited evening activities using your $15 pass!
---
We'll see you Saturday, October 15th!